Content
Linux Drivers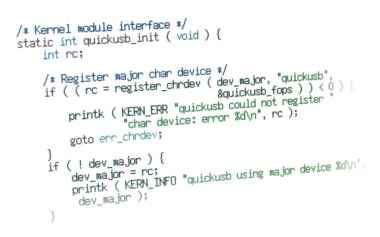 Fen Systems can develop a Linux device driver for your hardware. We have experience of developing drivers for gigabit and 10-gigabit Ethernet cards, USB peripherals, MTD (flash memory) devices and more.
If you are a hardware manufacturer wishing to add Linux support for your product, then outsourcing the initial driver development to us may be your fastest route to a working driver. Drivers are licensed under the GNU General Public License, so you will have complete freedom to develop the driver further with or without our assistance. The typical cost for a driver development is in the region of £10,000+VAT, with a timescale of one to two months. As with all our projects, the precise set of deliverables and the project schedule will be agreed in advance, as will the total cost. Please contact us to start discussions.
If you are a network card manufacturer, you may also be interested in developing a PXE driver.
We may also able to solve problems in existing third-party drivers. We have experience of diagnosing and fixing problems such as hardware interrupt race conditions and PCI-Express performance bottlenecks. Please contact us with details of your precise requirements.
End of Content